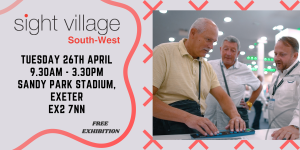 Somerset Sight is attending Sight Village SW on Tuesday 26th April at Sandy Park Conference Centre near Exeter.
Sight Village enables visitors to find out more about the latest technology, equipment and support services available to people who are blind or partially-sighted. If you or a family member have a visual impairment it could be of great help to visit the show.
Doors open at 9.30 am until 3.30pm and the event is FREE to attend.