Treat your friends and family to gifts from Somerset Sight and raise much needed funds for your local sight loss Charity.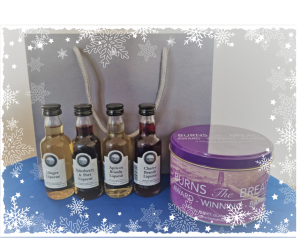 Delicious, locally made Torsy Moorsy fruit cake containing Somerset Cider, lots of decadent fruit and cheddar cheese in a round tin. Presented in a handcrafted paper gift bag along with your choice of specially selected liqueurs: Cherry Brandy, Apricot Brandy, Ginger or Elderberry & Port.
Cake and 1 liqueur in a gift bag £12
Cake and 2 liqueurs in a gift bag £15
They can be collected from Northfield House, Taunton or the Mobile Advisory bus from the beginning of December.
To order these lovely gifts please visit the order page or call us on 01823 333818.